Ayumu Orikasa (折笠アユム 
Orikasa Ayumu
) is a member of NANASTAR.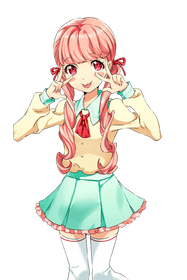 Age : 15
Birthday : November 29 (Sagittarius)
Bloodtype : O
Height/Weight : 154cm/42kg
3 Sizes : 80-56-77
Interests : Internet surfing, rainbow colors, cosplay, maids
Fun Fact : She ends her sentences with "~Nyan".
Attribute : 

MODEL
Biography
Edit
An energetic girl who works part-time at a maid cafe. Her friends treat her as a bundle of mystery. The number of fans who have fallen hopelessly in love with her killer "tongue out, double peace" pose are as many as there are stars in the sky.
List Of Cards
Edit
To see Ayumu Orikasa's cards, click here.