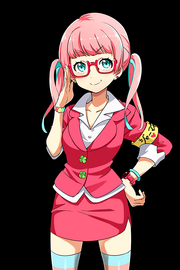 Coney Rokusaki (六咲コニー) is the manager of Nanastar.
Age : 19
Birthday : July 7th (Cancer)
Bloodtype : O
Height/Weight : 159cm/45kg
3 Sizes : 85-56-79
Interests : Friends, donuts, dreaming
Attribute : NO TYPE
Card List
Edit
TBA
Coney Rokusaki can possibly be (if not, is) the actual Nicole Nanasaki. There is much evidence to support this.

Coney and Nicole both share the same eye color and skin tone.
Their hair colors are only opposites (Coney's is pink and aqua highlights, nicole is aqua with pink highlights).
They share the exact same birthday (July 7th), and Nicole would in fact have been 19 two years after the 7th Sisters' disbandment.
They have the exact same height, almost the exact same weight, and almost the exact same BHW sizes.
They share the same hobbies.
They have the same voice actress (Inori Minase).
In one card, Nicole is wearing red glasses, of which are identical to those Coney wears on a regular basis.
The game description says that Coney is hiding something, her real identity as Nicole Nanasaki is most likely the case.
Coney's name (コニー) is almost an anagram of Nicole (ニコル).
The only person who would be willing to revive idol popularity after it died would've been someone with actual experience.
In the 7th Sisters' final show, one fan called Nicole "Coney", as in the form of a nickname.

While Coney does have cards, some are unusable since they have a very high CP, 999. This would be impossible to put into a group unless if you were to only upgrade your CP for the entire game.

Another thing is that, other than for leveling up others greatly, those cards are completely useless when it comes to ATK and HP. All of each are 0.
Coney does have a pair of cards including a Swimsuit Coney and Robo Coney that are usable though, and can be obtained by scouting in the Tokyo 7th City District.
Ad blocker interference detected!
Wikia is a free-to-use site that makes money from advertising. We have a modified experience for viewers using ad blockers

Wikia is not accessible if you've made further modifications. Remove the custom ad blocker rule(s) and the page will load as expected.