Ei Yukuhashi (逝橋エイ
Yukuhashi Ei
) is a member of NANASTAR.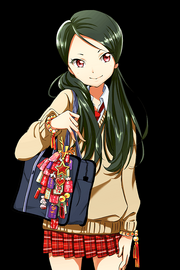 Age : 16
Birthday : June 8th (Gemini)
Blood Type : A
Height/Weight : 164cm/47kg
3 Sizes : 82-56-77
Interests : Spirits, becoming a Spirit Medium, shrines
Fun Fact : She has to keep charms around her to keep herself from becoming possessed.
Attribute : 

VARIETY SHOW
Biography
Edit
A 16-year old girl who can see supernatural beings. Somehow, she can also tell that "those" fans enjoy watching her performances as well. She gets possessed easily, so she always carries a large number of protective charms. She works as a shrine maiden at the shrine she lives at.
Ei Yukuhashi is voiced by M.A.O (Full name is Mao ICHIMICHI), who is not only well known for voicing Fumika Sagisawa in The Idolm@ster: Cinderella Girls, but is extremely well known for her role of Luka Milify in the live action sentai show Kaizoku Sentai Gokaiger, as well as her voicing role as Raptor 283 from Uchu Sentai Kyuranger .