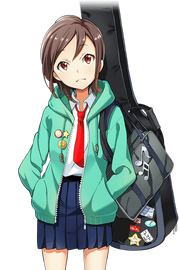 Ferb Seto (瀬戸ファーブ) is a member of NANASTAR.
Age : 17
Birthday : September 30th (Libra)
Blood Type : A
Height/Weight : 165cm/46kg
3 Sizes : 82-55-83
Character Voice : Yuki Hirose
Interests : Music, the summer festival, festivals in general,
Fun Fact : She is a member of the light music club.
Attribute :

PLAYER

Unit : The QUEEN of PURPLE
Biography
Edit
A girl that gives off a bit of a mature aura and loves music and musical instruments. From her appearance and her candid speech you'd think of her as a cool type, but occasionally she gives a shockingly big smile.
List Of Cards
Edit
To see Ferb Seto's cards, click here.
Ad blocker interference detected!
Wikia is a free-to-use site that makes money from advertising. We have a modified experience for viewers using ad blockers

Wikia is not accessible if you've made further modifications. Remove the custom ad blocker rule(s) and the page will load as expected.