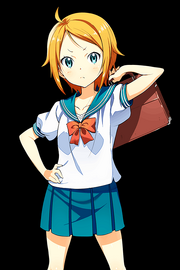 Hime Nonohara (野ノ原ヒメ
 Nonohara Hime
) is a core member of Nanastar. 
Age : 16
Birthday : August 8th (Leo)
Bloodtype : O
Height /Weight : 152cm/40kg
3 Sizes : 77-55-78
Character Voice : Yui Nakajima
Nickname : Nonohime
Interests : Delivery, being with her siblings, river scenery
Fun Fact : Her family runs a tofu shop.
Attribute : 

PLAYER
Biography
Edit
A daughter of the family business "Nonohara Tofu Shop". Her mother died when she was little, and now she lives with her father, younger sister, and   younger brother. She inherited her blonde hair and blue eyes from her late mother. Despite her sweet and delicate outer appearance, she doesn't find herself cute at all.
List Of Cards
Edit
To see Hime Nonohara's cards, click here.
She is one of 5 characters to have the same day and month number in her birthday (8/8). Others include Momoka Serizawa , Sui Kamishiro, Nicole Nanasaki, and Memoru Yusa.
She is the first idol you meet to not have A type blood.
As a member of 777☆SISTERS, her image color is

ORANGE

.

In WITCH NUMBER 4, she is the Witch Of Moonlight, and thus her image color is changed to

YELLOW

.
In WITCH NUMBER 4, her stage name is HI-ME.