Kajika Harumi (晴海カジカ 
Harumi Kajika
) is a core member of Nanastar.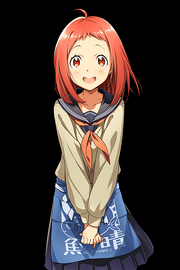 Birthday : February 14th (Aquarius)
Height/Weight : 148cm/38kg
Character Voice : Maika Takai
Interests : Making sweets, choir singing
Fun Fact : She was unable to eat fish, despite from running a fish shop.
Biography
Edit
The 14-year old second daughter of the family-run fish market, Uoharu. She thinks of herself as energetic, polite and helpful, but she's also quite careless at times. Since she likes sweet things, she was despiteful of being a fish dealer, but she's bad with raw fish and can't enjoy sashimi whilst feeling sad.
List Of Cards
Edit
To see Kajika Harumi's cards, click here.
As a member of 777☆SISTERS, her image color is 

RED

.

As a member of Sanpon Ribbon, her image color is

PINK

.
As a member of HARU

☆JIKA, her image color is 

SKY BLUE

.
Ad blocker interference detected!
Wikia is a free-to-use site that makes money from advertising. We have a modified experience for viewers using ad blockers

Wikia is not accessible if you've made further modifications. Remove the custom ad blocker rule(s) and the page will load as expected.