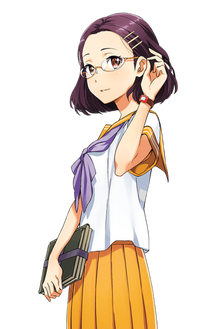 Kazumi Katsuragi (
桂木カヅミ) is a member of NANASTAR.
Age : 18
Birthday : August 2 (Leo)
Bloodtype : B
Height/Weight : 166cm/47kg
3 Sizes : 88-53-77
Interests : The curtains in the library, poetry
Fun Fact : She is talented at french poetry
Attribute :

MODEL
Biography
Edit
A quiet girl who likes poetry anthologies and books about philosophy. At a glance she seems like a plain girl who doesn't stand out in class, but when she takes off her glasses and gets dressed up, she unleashes a charm strong enough to make everyone's heads turn.
List Of Cards
Edit
To see Kazumi Katsuragi's cards, click here.
Ad blocker interference detected!
Wikia is a free-to-use site that makes money from advertising. We have a modified experience for viewers using ad blockers

Wikia is not accessible if you've made further modifications. Remove the custom ad blocker rule(s) and the page will load as expected.