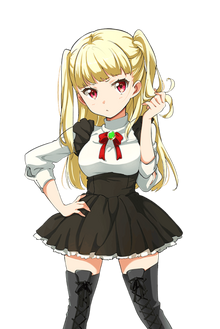 Kyoko U. Uesugi (上杉・ウエバス・キョーコ) is a member of NANASTAR.
Age : 16
Birthday : August 14th (Leo)
Blood type : B
Height/Weight : 146cm/43kg
3 Sizes : 89-55-88
Character Voice : Ayami Yoshī
Interests : Horror films
Fun Fact: She likes horror films but thinks they're too scary to watch alone.
Attribute:

VOCAL
Biography
Edit
A girl who seems to be of mixed blood, since she doesn't look Japanese at all. She seems to have the confidence to promote herself, but when people look at her intently she gets shy and embarrassed. She likes horror films, but thinks they're too scary to watch alone...?
List Of Cards
Edit
To see Kyoko U. Uesugi's cards, click here.
She is the first minor character to be included in a unit.
She is the only Vocal idol in Le☆S☆Ca.
Ad blocker interference detected!
Wikia is a free-to-use site that makes money from advertising. We have a modified experience for viewers using ad blockers

Wikia is not accessible if you've made further modifications. Remove the custom ad blocker rule(s) and the page will load as expected.