Madoka Enami (榎並マドカ) is a member of NANASTAR.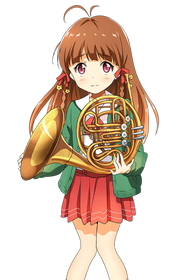 Age : 13
Birthday : September 4 (Virgo)
Bloodtype : A
Height/Weight : 136cm/36kg
3 Sizes : 72-49-75
Interests : French horn, walking her dog
Fun Fact : She is part of the wind instrument club
Attribute :

PLAYER
Biography
Edit
A timid 13-year old girl who enjoys playing the horn and walking her dog. Her Hiroshima dialect encourages her to be afraid of strangers, but she wants to be able to express herself through NANASTAR's activities.
List Of Cards
Edit
To see Madoka Enami's cards, click here.