Mana Misonoo (御園尾マナ Misonoo Mana) is a member of the 7th Sisters.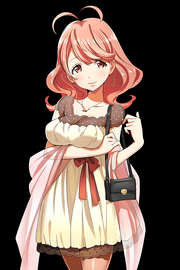 Age : 18 (20 in present day, 16 in 2030)
Birthday : May 12th (Taurus)
Bloodtype : B
Height/Weight : 164cm/51kg
3 Sizes : 94-59-86
Character Voice : Reina Maeda
Interests : Hot springs, gymnastics, table tennis, piano
Fun Fact : Her family runs Misonoo Concern, and is in charge of the Holocom technologies.
Attribute : NO TYPE ➝ 

PLAYER
Biography
Edit
Supports the 7th Sisters from behind, and is also the gentle and carefree daughter of the worldwide influential financial clique, Misonoo Concern. She's always embarrassed of her dynamite figure, but occasionally she is very mature and dignified, surprising the other members.
She has the largest 3 Sizes measurements of the 7th Sisters and 2nd largest of all the characters in the game.
She was also nicknamed "Miss Mana".
She is very good friends with Shizuka Kuonji and her family has some connections with theirs.
As a member of the 7th Sisters, her image color is 

PEACH

, and jer symbol is a heart (♥).