Memoru Yusa (遊佐メモル 
Yusa Memoru
) is a member of the 7th Sisters.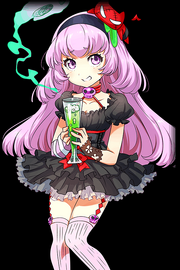 Age : 16 (18 in present day, 14 in 2030)
Birthday : March 3rd (Pisces)
Bloodtype : AB
Height/Weight : 140cm/36kg
3 Sizes : 76-50-80
Character Voice : Ayumi Tsuji
Interests : Cooking, her fans
Fun Fact : She enjoys making Memorun Juice, which she swears is not poisonous.
Attribute : NO TYPE ➝ 

VARIETY SHOW
Biography
Edit
A young girl who is by far the most popular 7th Sisters member among their core fans. But in reality... she's a wicked and sinister two-faced girl who loves making money. She presents herself to her fans as the lovely lolita Memorun, and charms them with a mysterious juice called "Memorun Juice (Poison)".
As a member of the 7th Sisters, her image color is 

ORCHIRD PURPLE

, and her symbol is a spade (♠).