Momoka Serizawa (芹沢モモカ 
 Serizawa Momoka
) is a core member of  Nanastar.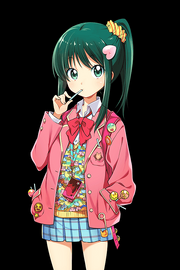 Age : 15
Birthday  : Januray 1st  (Capricorn)
Bloodtype : AB
Height/Weight : 144cm/37kg
3 Sizes : 78-53-78
Character Voice: Shiori Izawa
Interests : Tubax Style Sommeliere, anime, Choobucks
Fun Fact : She is very passionate about anime.
Attribute :  

VARIETY SHOW
Biography
Edit
A first year high school student. She was spoiled as a child so now she's lazy and selfish. Her favourite phrase is "Ehh..." which basically indicates a lack of interest in anything. On the other hand, she is a passionate anime fan and becomes oddly enthusiastic when talking about it.
To see Momoka's list of cards, click here.
As a member of  777☆SISTERS,  her  image color is  

EMERALD GREEN

.

In WITCH NUMBER 4 as the Witch of Forest, her stage name is 100Ka, where her image color is kept as

EMERALD GREEN

.

She is highly similar to Im@s Cinderella Girls' Anzu Futaba. to the point that she may have been inspired off of her.
She is one of 5 characters to have the same day and month number in her birthday (1/1). Others include Hime Nonohara, Sui Kamishiro, Nicole Nanasaki, and Memoru Yusa.