Musubi Tendoji (天堂寺 ムスビ 
Tendouji Musubi
) is a core member of Nanastar.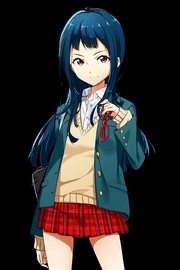 Age : 16
Birthday : July 13th (Cancer)
Bloodtype : A
Height/Weight : 162cm/47kg
3 Sizes : 80-56-83
Character Voice : Yūki Takada
Interests : Fallen games, yakisoba bread, student council duties
Fun Fact : Despite her perfect nature, she sees herself as a rotten singer.
Attribute : 

VOCAL
Biography
Edit
A first-year high school student and part of the student council. A seemingly perfect 16-year old who is both beautiful and excellent in school. However, she's an ordinary girl in that she worries easily and believes she has many weaknesses. She meets Haru and Rona at Nanastar, where she gradually developed her true character.
List Of Cards
Edit
To see Musubi Tendoji's cards, click here.
Being an Attribute Vocalist, it is kind of ironic that she sees herself as a bad singer.
As a 777☆SISTERS member, her image color is

LIGHT BLUE

. 
Ad blocker interference detected!
Wikia is a free-to-use site that makes money from advertising. We have a modified experience for viewers using ad blockers

Wikia is not accessible if you've made further modifications. Remove the custom ad blocker rule(s) and the page will load as expected.