Nicole Nanasaki (七咲ニコル 
Nanasaki Nikoru
) is the former leader of the 7th Sisters.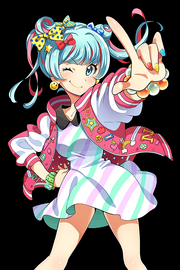 Age : 17 (19 in present day, 15 in 2030)
Birthday : July 7th (Cancer)
Blood Type : O
Height/Weight : 159cm/44kg
3 Sizes : 84-55-77
Character Voice : Inori Minase
Nickname : Nico
Interests : Sleeping, performing live, entertaining, friends, donuts.
Fun Fact : She freely sees her favourite dreams.
Attribute : NO TYPE ➝  

VOCAL
Biography
Edit
A perfect idol and the nonsensical leader of the legendary 7th Sisters. Sometimes, she's kind, stubborn and always gives her all, even for strange things. Because of this, she garnered attention from all over the world. It's been two years after the sudden disbanding of the group, and to this day, no one knows what happened to her.
It is very well likely that she has changed her identity to Coney Rokusaki. Refer to her page for more.
She is the only character to share a voice with a non-idol, of which is Coney.
She is possibly the only idol of the 7th Sisters to have known whereabouts.
Her surname makes a refernce to her the game, as Nana means 7 in Japan.
As a member of the 7th Sisters, her image is 

CYAN

, and her symbol is a star (★).