Qruit Kotobuki (寿クルト
Kotobuki Kuruto
) is a member of the legendary 7th Sisters.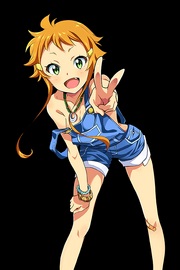 Age : 14 (16 in present day, 12 in 2030)
Birthday : December 4th (Sagittarius)
Height/Weight : 156cm/45kg
Character Voice: Yuko Kurose
Interests : Eating, trampolines, pranks
Fun Fact : She was raised in a circus.
Attribute : NO TYPE ➝ 

DANCE
Biography
Edit
The trickster of 7th Sisters, an astoundingly athletic and wild girl with tanned skin. She is an orphan that was raised in a circus. She's always hungry, and often messes with the minds of the other members, resulting in being scolded.
List Of Cards
Edit
To see Qruit Kotobuki's cards, click here.
She is the youngest member of the 7th Sisters.
She never reached high school by 2032.
She most likely got her hair cut and styled by 2032. She actually had very long pigtails during the group's debut.
Her first name is pronounced Kyu-ruito. Kyu stands for Q and Ruit is pronounced Ruito since there is a single T at the end of her name.
As a member of the 7th Sisters, her image color is 

LIME GREEN

, and her symbol is a sun (☀).