Rena Araki (荒木レナ) is a member of NANASTAR.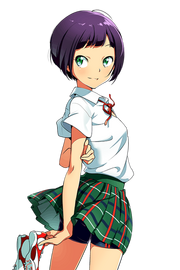 Age : 16
Birthday : March 21st (Aries)
Bloodtype : A
Height/Weight : 158cm/43kg
3 Sizes : 78-54-77
Character Voice : Akane Fujita
Interests : Art galleries, colored tights
Fun Fact : She is talented at the pole vault
Attribute :

DANCE
Biography
Edit
A sporty girl that's a member of the track and field club. Her ambition and ability to concentrate are helpful for live performances, but she gets unbelievably nervous if there's a sports rally before the live. She's at the age where she likes to poke fun at boys.
List Of Cards
Edit
To see Rena Araki's cards, click here.
She is the second minor character to be included in a unit, after Kyoko.