Rona Tsunomori (角森ロナ
Tsunomori Rona)
is a core member of NANASTAR.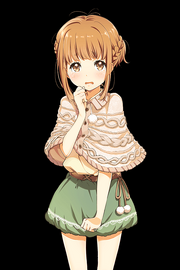 Age : 16 
Birthday: May 20th (Taurus)
Bloodtype : A
Height/Weight : 147cm/39kg
3 Sizes : 78-53-76
Interests : Beanbag Juggling, Nico-sama, and animals
Fun Fact : She wished to be an idol because she wanted to be like Nico-Sama.
Attribute : 

VARIETY SHOW
Biography
Edit
A 16-year old girl who works part time at the donut chain Viva Donuts. A crybaby who is shy and worries a lot. She often thought poorly of herself, but was encouraged by the Seventh Sisters' songs and became a huge fan of them (especially Nicole).
List of Cards
Edit
To see Rona Tsunomori's cards, click here .
As a member of 

777☆SISTERS, her image color is

YELLOW

.
In WITCH NUMBER 4, she is the Witch Of Water, and her image color is changed to 

SKY BLUE

.

Rona is the only member of 

777☆SISTERS to have a signature (autograph). This also goes for the entire game.

In WITCH NUMBER 4, her stage name is ROna.
Ad blocker interference detected!
Wikia is a free-to-use site that makes money from advertising. We have a modified experience for viewers using ad blockers

Wikia is not accessible if you've made further modifications. Remove the custom ad blocker rule(s) and the page will load as expected.