Rui Wakaoji (若王子ルイ 
Wakaōji Rui
) was a memebr of the 7th Sisters.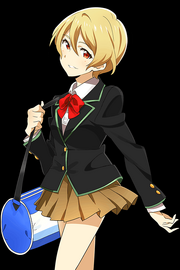 Age : 18 (20 in present day, 16 in 2030)
Birthday : January 6th (Capricorn)
Bloodtype : A
Height/Weight : 171cm/52kg
3 Sizes : 83-54-78
Character Voice : Meiko Kawasaki
Nickname : Prince Rui
Interests : Road Racing, tables and oranges, of course☆
Fun Fact : She is considered a prince.
Attribute : NO TYPE ➝ 

MODEL
Biography
Edit
Noble, dignified, and handsome. This triple threat is the shining prince of 7th Sisters, ranking #1 as a desired protector. She is the eldest member, and also has the most common sense. She is capable of handling unexpected harmful events by herself.
Judging by the photos, she is implied to be level 80 or higher.

As a member of the 7th Sisters, her image color is 

YELLOW

, and her symbol is a diamond (♦).
Ad blocker interference detected!
Wikia is a free-to-use site that makes money from advertising. We have a modified experience for viewers using ad blockers

Wikia is not accessible if you've made further modifications. Remove the custom ad blocker rule(s) and the page will load as expected.