Shinju Harumi (晴海シンジュ 
Harumi Shinjyu)
 is a core member of Nanastar.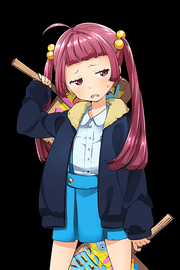 Age : 10
Birthday : August 28th (Virgo)
Bloodtype : A
Height/Weight : 134cm/32kg
3 Sizes : 71-48-70
Character Voice : Yūki Kuwabara
Nickname : Shi
Interests : Accounting, collecting frog goods
Fun Fact : She is a lot more mature than most girls her age.
ATTRBUTE : 

PLAYER
Biography
Edit
The 10-year old third daughter of the family-run fish market, Uoharu. Her attitude and tone of voice are unbelievably mature and realistic considering her appearance. But the truth is that whenever she tries to act childishly, her sense of reality gets in the way and so she is overly conscious of herself.
List Of Cards
Edit
To see Shinju Harumi's list of cards, click here.
As a member of 777☆SISTERS, her image color is 

DEEP INDIGO

.

As a member of Sanpon Ribbon, her image color is

YELLOW

.
Ad blocker interference detected!
Wikia is a free-to-use site that makes money from advertising. We have a modified experience for viewers using ad blockers

Wikia is not accessible if you've made further modifications. Remove the custom ad blocker rule(s) and the page will load as expected.