Sisala Kawasumi (川澄シサラ 
Kawasumi Sisala
) is a member of NANASTAR.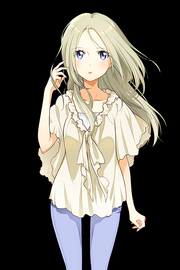 Age : 18
Birthday : June 29th (Cancer)
Bloodtype : A
Height/Weight :168cm/48kg
3 Sizes : 80-56-83
Interests : Sleeping, going to the cafe
Fun Fact : She was elected Tokyo 7th Cinderella Girl in 2033.
Attribute : 

MODEL
Biography
Edit
A beautiful 18-year old girl who was chosen amongst over 20,000 entrants to be the Tokyo 7th Cinderella Girl 2033. People say she's currently the closest to becoming a successor to the Seventh Sisters, but it doesn't seem like she has any interest in idols herself.
List Of Cards
Edit
To see Sisala Kawasumi's cards, click here.
Sisala is voced by Rie Suegara, who is also known for voicing Fuka Toyokawa in another idol game, The Idolm@ster: Million Live.