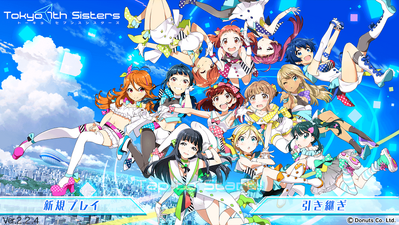 Welcome to the Tokyo 7th Sisters Wikia
Edit
After the sudden unexpected disbandment of the legendary idol unit the 7th Sisters, the idol industry seems to be dead until Coney Rokusaki revives them as the Tokyo 7th Sisters!
What Is Tokyo 7th Sisters?
Edit
Tokyo 7th Sisters is a Japan exclusive iOs game, where you are in charge of helping Coney Rokusaki bring the idol industry back into the spotlight!
Latest activity
Edit
Photos and videos are a great way to add visuals to your wiki. Find videos about your topic by exploring Wikia's Video Library.
Ad blocker interference detected!
Wikia is a free-to-use site that makes money from advertising. We have a modified experience for viewers using ad blockers

Wikia is not accessible if you've made further modifications. Remove the custom ad blocker rule(s) and the page will load as expected.