Tomoe Shiratori (白鳥トモエ Shiratori Tomoe) is a member of NANASTAR.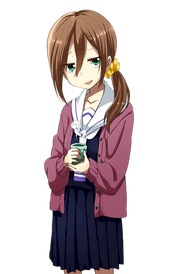 Age : 16
Birthday : December 24 (Capricorn)
Bloodtype : O
Height/Weight : 148cm/37kg
3 Sizes : 77-49-77
Interests : Cacti, world history
Fun Fact : She isn't in any clubs.
Attribute :

VARIETY SHOW
Biography
Edit
An extremely negative girl. She likes to stand out, and often does strange things in order to shock the people around her. She wants to be noticed, but becomes hesitant when it actually happens. But she really is happy on the inside.
List Of Cards
Edit
To see Tomoe Shiratori's cards, click here .