Ume Kujou (九条ウメ 
Kujou Ume
) is a member of 4U.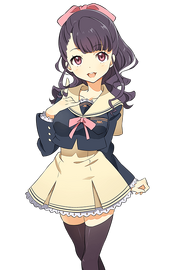 Age : 16
Birthday : August 30th (Virgo)
Blood Type : B
Height/Weight : 156 cm/43 kg
3 Sizes : B88/W57/H80
Character Voice : Mami Yamashita
Interests : Collecting cosmetics
Fun Fact : Despite from her perfect attitude, she speaks in fluent, sassy accent.
Attribute : 

VOCAL
Biography
Edit
Ume Kujou is voiced by Yamashita Mami.
Ad blocker interference detected!
Wikia is a free-to-use site that makes money from advertising. We have a modified experience for viewers using ad blockers

Wikia is not accessible if you've made further modifications. Remove the custom ad blocker rule(s) and the page will load as expected.